Doreen McGowan (12 Free Arrangements)
Doreen has been writing music for church choir, solos, and small ensembles for many years. She is a piano teacher, and also enjoys playing the French horn and bassoon. Mother of 3, grandmother of 5, wife of one wonderful husband.
Contact Doreen McGowan
if you'd like to send a personal note.
See composer song statistics
here
.

You could also filter these songs (limit them) by type. Currently: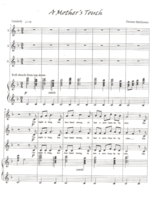 SSATB
,
Organ…
By:
Doreen McGowan
Topics:
Activation…
,
Adversity
,
Atonement…
,
Blessings
,
Christ
,
Comfort…
,
Forgiveness
,
Hope
,
Individual Worth…
,
Love
,
Obedience…
,
Praise
,
Repentance
,
Righteousness…
,
Sacrament
,
Sacrifice
,
Savior
,
Spirit
,
Supplication
,
Temptation
,
Testimony
,
Trials
,
Trust in…
,
Worthiness
,
Youth Mutual…

SATB
By:
Doreen McGowan
Topics:
Creation…
,
Creator
,
Earth/Nature
,
Happiness…
,
Nature
,
Praise
SATB
By:
Doreen McGowan
Topics:
Encouragement
,
Goals
,
Hope
,
New Year
,
Repentance
TTB
,
Trio
By:
Doreen McGowan
Topics:
Christmas
,
A Cappella…