Quote: "The song of the righteous is a prayer unto me, and it shall be answered with a blessing upon their heads."
D&C 25:12
Advertisements:
---
AnnMarie Murdock (12 Free Arrangements)
I love making arrangements of hymns! They teach me so much and bring the Spirit into my home.
Contact AnnMarie Murdock
if you'd like to send a personal note.
See composer song statistics
here
.

You could also filter these songs (limit them) by type. Currently: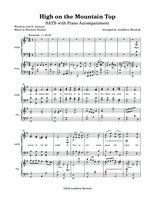 SATB
By:
AnnMarie Murdock
Topics:
Activation…
,
Atonement…
,
Christ
,
Comfort…
,
Duty
,
Earth/Nature
,
Enthusiasm
,
Eternal Life…
,
Faith
,
Fellowship
,
Gathering of…
,
Gospel
,
Happiness…
,
Hope
,
Missionary Work
,
Obedience…
,
Patience
,
Pioneers
,
Plan of…
,
Praise
,
Priesthood
,
Restoration
,
Testimony

SATB
By:
AnnMarie Murdock
Topics:
Christ
,
Christmas
,
Happiness…
,
Home/Family
,
Hope
,
Love
,
Lullabies
,
Peace
,
Savior
,
Spirit
,
Choir with…

Advertisements: