Holly Boyd (11 Free Arrangements)
Holly studied voice and piano for six years in her youth and loved sitting with her sister, Wendy, at the piano to sing hymns and broadway music. She graduated with a master's degree in accounting from Brigham Young University. She presently focuses on raising her three children and creating a home where the Spirit can dwell. Uplifting music is an important part of her effort, and so she regularly thinks about poetic ways to communicate messages that she hopes to remember and teach to her children. She is grateful Wendy Jensen captures her lyrics in original musical settings that she loves singing around the home and sharing with others.
Visit
Holly Boyd's website
if you'd like to see his/her site.
Contact Holly Boyd
if you'd like to send a personal note.
See composer song statistics
here
.

You could also filter these songs (limit them) by type. Currently: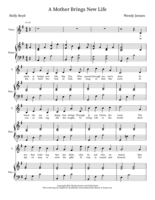 Vocal Solo…
By:
Holly Boyd
Topics:
Vocal Solo…
,
Motherhood…
Duet
By:
Holly Boyd
Topics:
Baptism
,
Children's Songs
,
Unity
SATB
By:
Holly Boyd
Topics:
Atonement…
,
Sabbath
,
Sacrament
,
Sacrifice
,
Savior
,
Supplication
,
Worthiness

SATB
By:
Holly Boyd
Topics:
Atonement…
,
Christ
,
Easter
,
Leadership/Shepherd
,
Resurrection

SATB
,
SATB quartet
By:
Holly Boyd
Topic:
Christmas

Primary…
By:
Holly Boyd
Topics:
Children's Songs
,
Christ
,
Creator
,
Earth/Nature
,
Light/Sun
SATB
By:
Holly Boyd
Topics:
Christ
,
Comfort…
,
Compassion
,
Heavenly Father
,
Love
,
Prayer

SATB
By:
Holly Boyd
Topics:
Baptism
,
Christ
,
Sacrament

SATB
By:
Holly Boyd
Topics:
Praise
,
Second Coming…
,
Zion
SATB
By:
Holly Boyd
Topics:
Faith
,
Heavenly Father
,
Joseph Smith
,
Knowledge/Truth
,
Prayer
,
Restoration
SATB
,
SATB quartet
By:
Holly Boyd
Topics:
Christ
,
Compassion
,
Sacrifice
,
Service