Quote: "The song of the righteous is a prayer unto me, and it shall be answered with a blessing upon their heads."
D&C 25:12
Advertisements:
---
Melissa Pack (4 Free Arrangements)
Melissa Pack is the founder of freeldssheetmusic.org and loves to compose! She graduated from SUU in music education and plays the bassoon. She played clarinet in the Nauvoo Brass Band for the summer of 2004 as a Young Performing Missionary and served in the Brazil Curitiba mission from 2004 to 2006. She is now married to Roger Pack and is the proud mother of 3 boys.
Contact Melissa Pack
if you'd like to send a personal note.
See composer song statistics
here
.

You could also filter these songs (limit them) by type. Currently:
Primary…
By:
Melissa Pack
Topics:
Joseph Smith
,
Restoration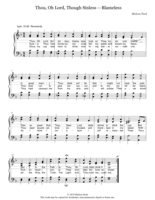 SATB
By:
Melissa Pack
Topics:
Atonement…
,
Sacrament
Advertisements: