Quote: "The song of the righteous is a prayer unto me, and it shall be answered with a blessing upon their heads."
D&C 25:12
Advertisements:
---
Matt Astle (7 Free Arrangements)
Matt Astle currently lives in Sammamish, Washington (just outside Seattle) with his wife and four daughters. He's on his third or fourth stint as a ward choir director (who can keep count?), and enjoys arranging music for them. He's been a musician from a very early age, and has sung with the Mormon Choir of Washington DC; his law school a cappella group, the Scales of Justice; and currently with the Northwest Sound, a championship-level barbershop chorus. Many of his most powerful spiritual experiences have a musical element to them.
Contact Matt Astle
if you'd like to send a personal note.
See composer song statistics
here
.

You could also filter these songs (limit them) by type. Currently:
SATB
By:
Matt Astle
Topics:
Easter
,
Resurrection
SATB
By:
Matt Astle
Topics:
Activation…
,
Adversity
,
Atonement…
,
Blessings
,
Christ
,
Comfort…
,
Forgiveness
,
Gratitude…
,
Hope
,
Individual Worth…
,
Love
,
Obedience…
,
Praise
,
Repentance
,
Righteousness…
,
Sacrament
,
Sacrifice
,
Savior
,
Spirit
,
Supplication
,
Temptation
,
Testimony
,
Trials
,
Trust in…
,
Worthiness
,
Youth Mutual…
SATB
By:
Matt Astle
Topics:
Atonement…
,
Comfort…
,
Praise
,
Scriptures…
TTBB
By:
Matt Astle
Topics:
Christmas
,
A Cappella…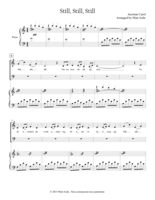 SB
,
2 part…
,
Duet
By:
Matt Astle
Topic:
Christmas
Advertisements: