Quote: "The song of the righteous is a prayer unto me, and it shall be answered with a blessing upon their heads."
D&C 25:12
Advertisements:
---
Travis Lunt (2 Free Arrangements)
I was raised on a dairy farm. I am currently attending college and studying accounting. I enjoy composing, arranging, directing choirs, organizing musical events, and cooking.
Contact Travis Lunt
if you'd like to send a personal note.
See composer song statistics
here
.

You could also filter these songs (limit them) by type. Currently: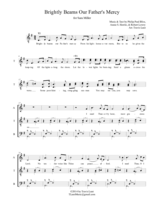 ATTBB
,
TTBB
By:
Travis Lunt
Topics:
Adversity
,
Atonement…
,
Blessings
,
Charity
,
Christ
,
Comfort…
,
Compassion
,
Duty
,
Easter
,
Example
,
Faith
,
Forgiveness
,
Gathering of…
,
Guidance
,
Happiness…
,
Heavenly Father
,
Holy…
,
Hope
,
Individual Worth…
,
Kindness
,
Leadership/Shepherd
,
Light/Sun
,
Love
,
Missionary Work
,
Peace
,
Plan of…
,
Relief Society…
,
Resurrection
,
Sacrament
,
Savior
,
Service
,
Testimony
,
A Cappella…
,
Choir
,
Choir with…
,
Languages
SSA
,
Organ…
,
Trio
By:
Travis Lunt
Topics:
Agency…
,
Baptism
,
Blessings
,
Children
,
Children's Songs
,
Christ
,
Comfort…
,
Commandments
,
Compassion
,
Consecration
,
Death/Funeral
,
Encouragement
,
Eternal Life…
,
Faith
,
Family
,
Gospel
,
Gratitude…
,
Guidance
,
Happiness…
,
Heaven…
,
Heavenly Father
,
Home/Family
,
Hope
,
Individual Worth…
,
Kindness
,
Learning
,
Love
,
Lullabies
,
Obedience…
,
Plan of…
,
Prayer
,
Repentance
,
Trust in…
,
Worship
,
Choir with…
,
Languages
,
Piano
Advertisements: