Quote: "The song of the righteous is a prayer unto me, and it shall be answered with a blessing upon their heads."
D&C 25:12
Advertisements:
---
Randalin Leake Hilton (3 Free Arrangements)
Pianist, accompanist, piano teacher, and church musician, wife, mother of eight and grandmother of 19, Randalin L. Hilton (aka Randy Leake) earned a Bachelor's in Music Pedagogy from BYU, studying with Richard Anderson and Paul Pollei. She was an adjunct instructor and accompanist at Dixie College in St. George, Utah (now Utah Tech University), accompanied the Southwest Symphonic Chorale, and maintained a small piano teaching studio while rearing her children. She and her husband have served two missions for the Church of Jesus Christ of Latter-day Saints and have served in the St. George Temple. An amateur composer/arranger, she occasionally writes for her ward choir.
Contact Randalin Leake Hilton
if you'd like to send a personal note.
See composer song statistics
here
.

You could also filter these songs (limit them) by type. Currently:


SATB
By:
Randalin Leake Hilton
Topics:
Fellowship
,
Love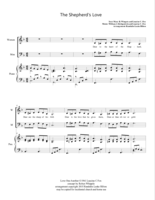 Advertisements: