Quote: "The song of the righteous is a prayer unto me, and it shall be answered with a blessing upon their heads."
D&C 25:12
Advertisements:
---
Paul R. Machula (7 Free Arrangements)
Born in Snowflake, AZ, I've been a member of the Church all my life. I was raised by "goodly parents," completed a mission (1967-69) in northern Argentina, and was married in 1976 to an American Methodist missionary's daughter, Janet Allen, who was born in India and later converted to the Church. We met at B.Y.U. and were married in the Mesa, AZ, Temple. We have three daughters and ten grandchildren. Our daughters are married to faithful husbands and are raising wonderful families, for which we are truly grateful. I have an M.A. from B.Y.U. in Music Education and taught music in local schools for 22 years, and for 15 years I taught Spanish. Having written much music over the years, I recently have completed music in many styles for local community drama, dance, and band groups. I have also written music for many church functions. In 1990 I won first place for what was then called the Ensign Writing and Music Contest (anthem division) for my piece, "Wondrous Child." Since I am now retired, I have devoted myself to many activities; therefore, my current website is not quite ready for posting some of my compositions (It contains too much about many of my other interests). Perhaps in the future I may remedy that. But if you wish to contact me, my email is prmachula@gmail.com. I truly appreciate the work of all those who devote so much time to freeldssheetmusic.org. It is truly a wonderful, much-needed endeavor!
Contact Paul R. Machula
if you'd like to send a personal note.
See composer song statistics
here
.

You could also filter these songs (limit them) by type. Currently:
SATB
By:
Paul R. Machula
Topic:
Easter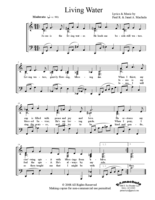 Primary…
By:
Paul R. Machula
Topic:
Children
SATB
By:
Paul R. Machula
Topics:
Diligence…
,
Zion
SATB
By:
Paul R. Machula
Topic:
Sabbath
Advertisements: