Quote: "The song of the righteous is a prayer unto me, and it shall be answered with a blessing upon their heads."
D&C 25:12
Marsha Sisco (8 Free Arrangements)
I am a teacher and mom, who has always enjoyed making hymns and Primary songs beautiful. However, my piano skills are not on par with many, so I like to make arrangements that are easy to play but are still beautiful. This is something I have doe as a hobby for a handful of years, but I have played instruments and sang since I was very little.
Contact Marsha Sisco
if you'd like to send a personal note.
See composer song statistics
here
.

You could also filter these songs (limit them) by type. Currently: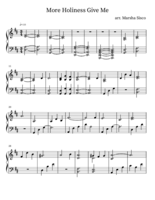 Piano Prelude…
,
Piano Solo
By:
Marsha Sisco
Topics:
Baptism
,
Children
,
Children's Songs
,
Christ
,
Commandments
,
Eternal Life…
,
Example
,
Faith
,
Family
,
Guidance
,
Heaven…
,
Heavenly Father
,
Home/Family
,
Hope
,
Knowledge/Truth
,
Learning
,
Light/Sun
,
Love
,
Plan of…
,
Savior
,
Spirit
,
Teaching…